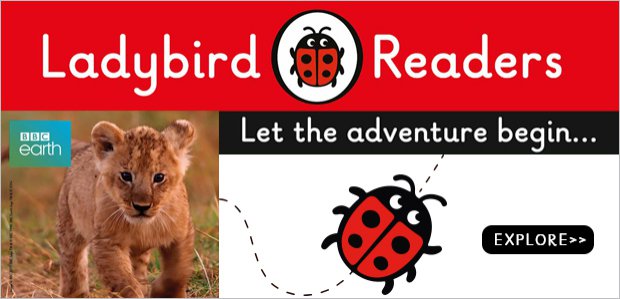 Ladybug
Introducing Ladybird Readers
Ladybird Readers is a graded reading series specifically written for children learning English as a foreign or second language. The series combines a fantastic range of content (new fiction, popular characters, traditional tales and non-fiction) with carefully structured progression required by young learners.
Teachers, parents, and children can choose:
Traditional stories children may know already, such as Rapunzel.
Stories about much-loved character brands like Peter Rabbit, Transformers or Peppa Pig.
Stories of everyday adventures featuring children like themselves.
Nonfiction books about the world around them, including BBC Earth titles.
Ladybird is famous for the quality of the illustrations that accompany the words. Great care has been taken to match a small number of words with a large illustrated scene, so that children can check the meaning of the words. Ladybird works with the best artists to produce beautiful illustrations that support understanding of the story.
The Ladybird Readers gently introduces children to the phonics approach to reading, using familiar themes such as family, friends, animals, and food in the playful, imaginative context of storytelling.

Each Reader focuses on a set of carefully contextualized sounds within familiar words. These sounds are divided into two groups: focus sounds and secondary sounds.
The Picture words pages familiarize the children with key vocabulary and characters in the story. The words are visually represented on the page and can be listened to in the audio download.
Ladybug
These pages also feature a list of the main letters and sounds, the theme of the story, and an alphabet trail for reference.
The Look at the story pages contain the book illustrations and the Picture words, but have no story text. Looking at these pages prepares the children for reading and listening to the full story. It allows the children to start building an idea of the storyline and the role of each character.
The Read the story pages can be read aloud or listened to in the audio download. The first time you read the story, you may prefer it to be an extended listening activity for the children, so they can listen carefully and enjoy the story without interruption. Encourage the children to listen to you, rather than look at the pages of their own book.

---
There is a full-colour Activity Book to accompany each Reader. The Activity Books supplement the activities found at the back of each Reader. The Activity Books include listening activities and songs, as well as the reading, writing, speaking, critical thinking and YLE practice activities found in the Reader exercises too.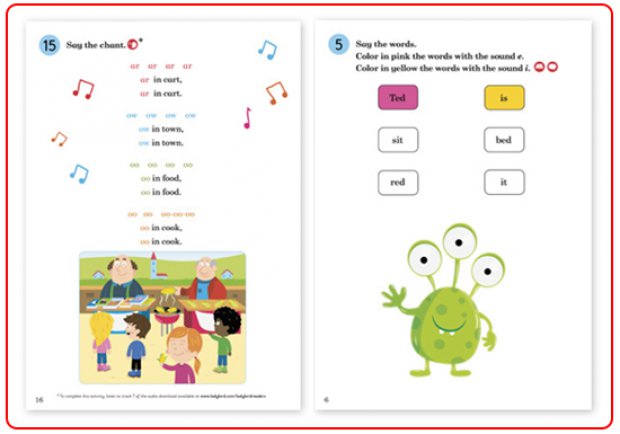 ---
Ladybug
Buying Ladybird Readers
The Ladybird Readers series covers five levels, and is designed to take children from Pre-A1 to A2 in the CEFR framework. It provides practice activities for children working towards the Cambridge English: Young Learners Starters, Movers, and Flyers exams.
---
To get more information or to order
Ladybird Readers, please contact:
---
Ladybug
Sales Representative
Paweł Łepkowski

Account Coordinator International,  
School books Higher Education and Professional, 
Central and Eastern Europe & Central Asia 

mob. +48 609 120 919 

 

 Ladybug  

---

Order form with full Ladybird Readers list

---

 Ladybug