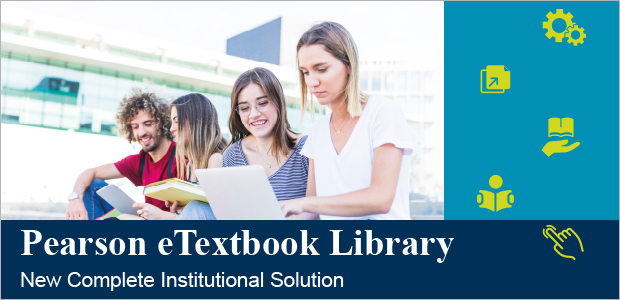 |
We are pleased to present you
|
Higher education service and solution
to enable student and institutional success
by easy access to eBooks.
|
---
More than 2400 titles now available in one enhanced online platform.
Fully integrated with every e-learning management system. No matter what Virtual Learning Environment is already implemented at your University – this solution would perfectly fit it.
Powered by Vital Source to ensure Pearson's eBooks are accessible for institutions and students.
Always 12 months subscription plan.
Individual pricing models due to the number of concurrent users and the chosen bundle of titles.
Beneficial discounts in the Pick & Choose model and even more in the Collections.
---
Content is available in two buying options:
|
1. Pick & Choose
Build your own customized collection on a title-by-title basis.
Additional titles can be added at any time.
Buy access for 3, 5, 10, 15 concurrent users or choose open (unlimited) access for your University.
The complete list of titles is available here.
|
2. Collections
Get access to the specialized number of titles dedicated to your University.
Choose from seven carefully selected subject collections (click collections to see all included titles):
---