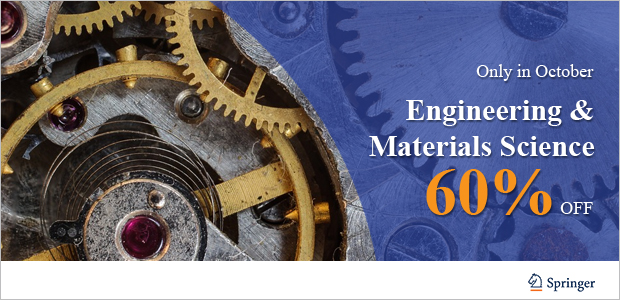 Wide selection of Springer books in
Engineering and Material Science.
635 trusted Engineering and Material Science titles in various sub-specialties such as Electrical & Computer Engineering, Robotics & Automation, Mechanical Engineering, Aerospace Technology, and Automotive Engineering. The Copyright Years range from 2009 to 2019.
SPECIAL DISCOUNTS - 60%!
---

1. View the list of all books included in the promotion (click icon below to open the file):

     

2. Choose books


   To use a discount, please refer the promo code

 

ENG19PBKS

3. Place an order by e-mail (or phone):


 Customer Service or Sales Representative


To get more information, please contact: [email protected]

---

*Offer is valid until 25-10-2019 and cannot be combined with any other offer or discount.

---

Below you can find recommendations of books included in the promotion.