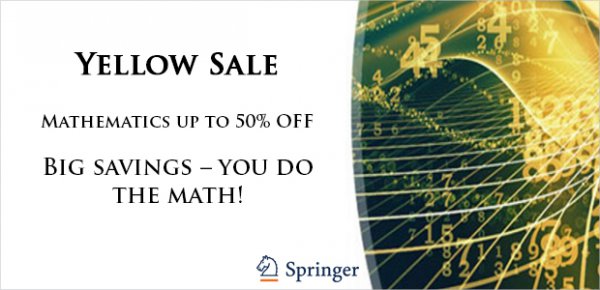 Rabaty aż do 50% - SPRINGER YELLOW SALE.
Pobierz spis przecenionych tytułów pogrupowanych według kolejności alfabetycznej kategorii * :
Aby skorzystać z rabatu, proszę podać kod promocyjny YELLOW2017
Abstract Harmonic Analysis
Actuarial Sciences
Algebra
Algebraic Geometry
Algebraic Topology
Algorithms
Analysis
Applications of Mathematics
Associative Rings and Algebras
Category Theory, Homological Algebra
Combinatorics
Commutative Rings and Algebras
Computational Mathematics and Numerical Analysis
Computational Science and Engineering
Continuous Optimization
Convex and Discrete Geometry
Calculus of Variations and Optimal Control; Optimization
Difference and Functional Equations
Differential Geometry
Discrete Mathematics
Dynamical Systems and Ergodic Theory
Field Theory and Polynomials
Fourier Analysis
Functional Analysis
Functions of a Complex Variable
Game Theory, Economics, Social and Behav. Sciences
General Algebraic Systems
Genetics and Population Dynamics
Geometry
Global Analysis and Analysis on Manifolds
Group Theory and Generalizations
History of Mathematical Sciences
Information and Communication, Circuits
Integral Equations
Integral Transforms, Operational Calculus
K-Theory
Linear and Multilinear Algebras, Matrix Theory
Manifolds and Cell Complexes (incl. Diff.Topology)
Mathematical and Computational Biology
Mathematical Applications in the Physical Sciences
Mathematical Logic and Foundations
Mathematical Modeling and Industrial Mathematics
Mathematical Physics
Mathematical Software
Mathematics in Art and Architecture
Mathematics, general
Measure and Integration
Number Theory
Numerical Analysis
Operations Research, Management Science
Operator Theory
Optimization
Order, Lattices, Ordered Algebraic Structures
Ordinary Differential Equations
Partial Differential Equations
Physiological, Cellular and Medical Topics
Probability Theory and Stochastic Processes
Projective Geometry
Quantitative Finance
Real Functions
Several Complex Variables and Analytic Spaces
Systems Theory, Control
Topological Groups, Lie Groups
Topology
* Oferta nie łączy się z innymi promocjami
**Oferta ważna do 30.06.2017 roku lub do wyczerpania zapasów.
·